Applying the Principles and Philosophy of PNF to Enhance Gait
Learn something now! - Watch the CEU Course Trailer
Why should a physical therapist, occupational therapist or athletic trainer take this PNF Gait Analysis and Treatment continuing education course?
Gait Training is a combination of specific exercises, neuromuscular reeducation, endurance training, and coordination activities. A qualified physical therapist develops gait training programs particular to individual needs to optimize functional gait within specific environments.
Combine the theory and application of PNF based treatments to enhance functional gait. The concepts and techniques presented in this course provide clinicians with the information and hands-on skills necessary to address the ambulatory needs of their orthopedic and neurologically impaired clients in all therapy settings.
Rehab clinical tools instructed in this PNF Gait Analysis CE course to enhance your functional outcomes.
Evidence-based research studies and clinical scenarios provide the efficacy of the PNF approach when applied to specific musculoskeletal and neurological dysfunctions impacting functional gait
Problem-solving scenarios presented identify specific PNF techniques/ patterns utilized to address each issue before pre-gait and gait activities
Specific instruction that will enhance your understanding and ability to deliver better patient care.
Tools to identify when to use scapular and pelvic patterns to promote specific functional movements for pre-gait and gait activities
Strategies to determine energy expenditure and movement potential
Features unique to this PNF Gait continuing education course
Appropriate PNF facilitation techniques needed to elicit necessary movement in the trunk, pelvis, and lower extremity
Keys to incorporating PNF with other therapy procedures for enhanced outcomes
Professional Accreditation
This is an advanced level course applicable for PT, PTA, OT, AT. Physical Therapy Accreditation: For specific state information use the accreditation verification menu and select your state of license. AOTA: provider #4487, Occupational therapy professional development activity: Occupational Therapy Service Delivery, evaluation and intervention, and Foundation Knowledge: human body, development and behavior. Athletic Trainers: BOC provider #P2047, category A. This course has not been submitted for Evidence-Based BOC approval.
fact_check Accreditation Verification
View PT, PTA, OT and AT Continuing Education Course State Accreditation
Responsible CME® - Testimonials
---
Excellent summary of the most practical PNF techniques -- Julia, Physical Therapist
Meet your Continuing Education License Requirements for $189
BEST VALUE - Includes this course and all our online courses
Subscribe Today
theaters Purchase Now, Instant Online Course Access
Applying the Principles and Philosophy of PNF to Enhance Gait
$175.00
CE Hours: 10.0 hrs, 1.0 CEU
Delivered: Online
Instant Online Access, PDF Manual for Download, 365 days of access, Mobile Ready
All Access Subscription
---
$189
All Access Video Subscription
1 Year Access with Annual Renewal
State specific course completion certificates.
Chat support
Prices are in US dollars
12 months of access to all online courses, course tests and state approval certificates.
Meet all your CE requirements. Pre-approved for PT, PTAs in AK, AL, AZ, CA, CO, CT, DC, DE, GA, HI, IA, ID, IL, IN, KS, MA, ME, MI, MO, MS, MT, NC, ND, NE, NH, NM, NV, NY, OR, PA, RI, SC, SD, TN, TX, UT, VA, VT, WA, WI, and WY.
AOTA approved.
Designed for Physical Therapists, Occupational Therapists, Athletic Trainers and Assistants.
Access to future courses and content.
Start, stop and resume, right where you left off in a course.
Real patient interviews.
Medical expert contributors.
3D anatomy and medical illustrations.
Easy to use learning system for fast access to your courses.
Award winning content.
Top instructors teaching evidence based skills and techniques.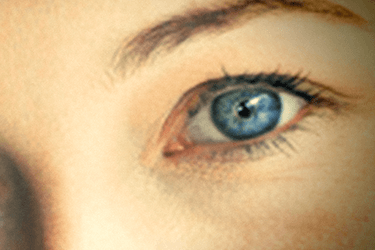 Upon Successful Completion of this course the participant will be able to:
Discuss the eight components of PNF philosophy (potential, place a demand, treating the whole patient, positive approach, functional treatments, elicit maximal patient response repetition and respect normal timing) and incorporate each component into a comprehensive program.
Discuss the importance of each component of the PNF basic principles (pattern of facilitation, patient position, therapists position, diagonal, manual cues, stretch, verbal command, resistance, irradiation, visual cues and normal timing) and understand how to apply each principle to obtain better outcomes.
Identify a patient's potential by applying the appropriate demand on their system.
Discuss the importance of treating the whole person to get optimal results.
Identify the appropriate PNF pattern to utilize when working on pre-gait activities.
Identify the importance of patient and therapist positioning with each PNF pattern performed.
Correctly perform PNF techniques to elicit functional movement.
Perform scapular and pelvic patterns to promote specific functional movements for pre-gait and gait activities.
Discuss the differences between contract-relax and hold-relax and identify when to utilize each technique.
Discuss the evidence-based research that supports PNF techniques to improve gait function in the neurological and orthopedic population.
Identify the range of motion needed at each joint in order to have functional gait.
Discuss common limitations in joint range of motion in addition to common areas of contractures and the implications on gait.
Identify common muscle weakness and the implications on gait.
Identify the specific control and motion of the pelvis during throughout the gait phase.
Identify the consequence of abnormal pelvic motion in the gait cycle and how to address each deficit with specific PNF techniques.
Discuss the advantages of PNF with gait facilitation.
Discuss the evidence-based practice research that validates therapeutic exercise and PNF for a variety of diagnoses.
Develop a comprehensive program to include pre-gait interventions to improve functional gait and mobility.
Develop a treatment plan that is progressive and sets the patient up for success by incorporating many critical components of the PNF philosophy and principles into a comprehensive program.
Learn From the Expert - Cathy Finch, PT
---
Catherine Finch, PT, is a graduate of California State University in Fresno with dual degrees in health science and physical therapy. Her impressive credentials include extensive experience in acute rehabilitation, inpatient rehabilitation, outpatient orthopedics, and 25 years of physical therapy.
More specifically, Ms. Finch has a wealth of knowledge, training and experience in the area of Proprioceptive Neuromuscular Facilitation (PNF).
Learn More about Catherine Finch
Setting up Parameters for Successful Treatments: PNF Philosophy
---
The basic philosophy of PNF
Components of PNF Philosophy

Patient Potential
Place a Demand
Treat the Whole Person
Positive Approach
Functional Treatments
Elicit Maximal Patient Response
Repetition
Respect Normal Timing
The Basic Principles of PNF
---
The basic principles of PNF
Components of PNF Basic Principles:

Patterns of facilitation
Patient position
Therapist position/body mechanics
Diagonal
Manual contacts
Stretch
Verbal command
Resistance
Irradiation
Visual cues
Normal timing
Comprehensive Treatment Planning Overview
---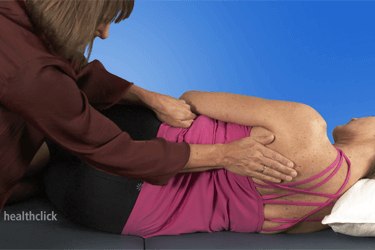 Looking at the whole patient
Contract-relax and hold-relax
International PNF Association
Reciprocal inhibition
Learn about submaximal contraction
Learn these valuable PNF Techniques:

Rhythmic Initiation
Replication
Contract Relax
Hold Relax
Dynamic Reversals
Combination of Isotonics
Stabilizing Reversals
Scapula and pelvic patterns
Lower Extremity Patterns
Mastering patient positioning for patterns
Gait Facilitation Through the Utilization of PNF Manual Contacts
---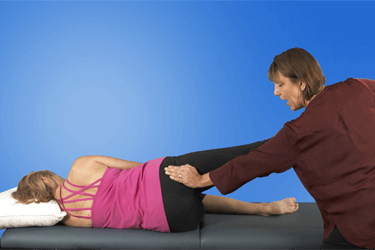 Anterior elevation that occurs with the D1
The Flexion adduction leg pattern
The extension abduction internal rotation pattern
Lab: Applying PNF Principles to Basic Exercises for Pre-Gait Training
---
Incorporating trunk patterns into treatment

Anterior depression
Posterior elevation
Scapular setting
Scapular setting

Pelvic Patterns
Reciprocal patterns
PNF D1 flexion/extension pattern
Facilitate extension pattern
Apply principles to exercises to get people up for gait training
Contract -Relax techniques, rotation component to improve muscle length
Lab: Standing PNF Techniques for Gait Training and Steps
---
Standing approximation, weight shifting-stepping progression
Standing approximation, Therapist providing support-cues from behind for step progression
Facilitating stepping backwards-Hip extensor activity
Facilitating hip adduction/abduction side stepping
Facilitating hip adduction/abduction side stepping
Facilitating steping up onto step
Case Presentations of PNF treatments
---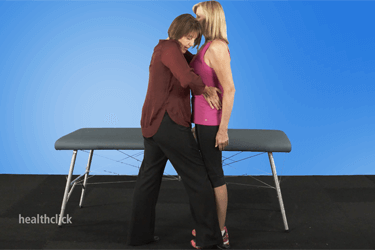 The patient that loads their leg with a bent knee
Choosing the best PNF Pattern for this patient
Treatment ideas and considerations
Course Test - Evaluate your knowledge
---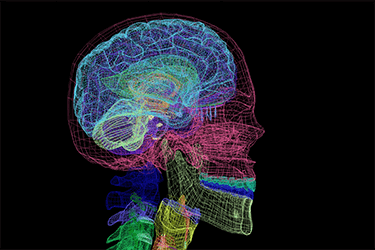 Use the Healthclick proprietary online education system which provides the online student with:

Worldwide access to high definition video, anatomical animations and images, and written information
The highest quality film in the industry, you can see the difference!
Stop and resume within a course, the Healthclick system will optimize your course based on your device, connection and remembers where you left off.
Real-time course updates. We are always adding to each courses, updating content, adding animations, these are not static courses!

Evaluate your knowledge with the course test on any device.
Print your state course certificate for CE credit.
Take the online test as many times as need in order to achieve a 70 % or greater score.