Utilizing Pilates to Enhance Rehab Outcomes
Learn something now! - Watch the CEU Course Trailer
Why should a physical therapist, occupational therapist or athletic trainer take this Pilates Continuing Education Course?
Pilates can be effective in treating multiple neurological diseases and conditions. In several neurological conditions, such as Multiple Sclerosis, Parkinson's Disease, stroke, peripheral neuropathy, and gait ataxia, balance re—training is a key component in rehabilitation. Several studies suggest that Pilates is effective in improving balance in the older adult population. Claims have been made that Pilates can also assist in improving posture and energy level in these groups, but more research is needed to prove these claims.
Pilates can be safely used in the senior population. However, certain exercises may require modifications or adjustments. Not only has Pilates been found to improve both static and dynamic balance in this population, it has also been found to improve personal autonomy and quality of life. In middle aged men and women, Pilates has been found to improve abdominal endurance, hamstring flexibility, and upper—body muscular endurance. Additionally, Pilates can improve overall body composition, muscular endurance, and flexibility in adults.
One study showed that Pilates and pelvic floor muscle training showed similar increases in pelvic floor muscle strength in healthy females. Pilates can be a safe and effective method for people with Fibromyalgia syndrome. There are studies showing the effectiveness of using Pilates in breast cancer patients. Possible benefits include increased shoulder range of motion, as well as improvement in symptoms of fatigue, functional capacity, depression, and quality of life. Pilates may even help reduce obesity. Studies showed that a four—week Pilates program actually reduced BMI percentile in healthy, young girls.
In this course you will learn to master Pilates Exercise technique and integrate Pilates into your therapy treatment programs.
Rehab clinical tools instructed in this Pilates Continuing Education Course to enhance your functional outcomes.
Pilates for Multiple Sclerosis, Parkinson's Disease, stroke, peripheral neuropathy, and gait ataxia, balance re–training
Scientific evidence for Pilates and its use in physical therapy and rehabilitation
Specific instruction that will enhance your understanding and ability to deliver better patient care.
Principles of Pilates and the implications in rehabilitation
Exercise category will help with developing functional rehab programs for a variety of diagnoses
Variety of Pilates exercises in order to teach patients the appropriate exercises for their conditions
The Pilates principle of Core Control and Centering to improve overall body composition, muscular endurance, and flexibility in adults
Optimal Pilates exercises to apply to the specific diagnosis
Features unique to this Pilates Course.
Evidence based studies substantiating the use of Pilates as an effective approach in core stabilization
Integrate Pilates into post–surgical total hip and knee arthroplasty rehabilitative interventions
Case studies for ACL reconstruction, post hip replacement, multiple sclerosis, stroke, lumbar stenosis, work related injuries, and athletic injuries
Over 80 exercises with detailed narration assist the clinician in understanding the proper way to perform each exercise
Specific exercise categories such as: preparatory exercises, mat exercises, standing exercises, exercises with swiss ball, exercises with foam roll, exercises with ring/circle, exercises with bands, exercises with Bosu® trainer
Extensive 3D animations and diagrams of muscles and motion
Professional Accreditation
This is an intermediate level course applicable for PT, PTA, OT, AT. Physical Therapy Accreditation: For specific state information, use the accreditation verification menu and select your state of license. AOTA: provider #4487, Occupational therapy professional development activity: Foundation Knowledge: human body, development, and behavior. Athletic Trainers: BOC provider #P2047, category A. This course has not been submitted for Evidence-Based BOC approval.
fact_check Accreditation Verification
View PT, PTA, OT and AT Continuing Education Course State Accreditation
Responsible CME® - Testimonials
---
Great course - great examples of exercise and how to incorporate them into individual patients with great case studies. -- Lorin, PT

Nice instructional Videos. Helpful for patient application as a rehab tool. -- joanna, OTA

It was nice and simple and of benefit to my setting , geriatric population . -- VIMBAI, OT

Helpful course that showed useful exercises and ways to incorporate them into practice. -- Kathleen, Physical Therapist

I loved the videos. Very interactive. -- Christi, PT

Very good videos to demonstrate the different Pilates exercises. -- Sally, PT

By taking this course I now know how I can improve and explain to my patients on why they are doing these exercises and I know how i can advance patients with certain exercises that were given in this course. -- Kyle, PTA

Now I am ready to teach the dancers in Las Vegas! -- Christopher, Physical Therapist

Course was very informative and educational. Highly recommend this course. -- David, PTA

This is a fabulous course! -- Diana, Occupational Therapist

It enhanced my understanding and utilization of Pilates to therapy interventions. -- Steven, PT

Very good course, would recommend to co-workers! Good treatment interventions -- Diana, Physical Therapy Assistant
Meet your Continuing Education License Requirements for $189
BEST VALUE - Includes this course and all our online courses
Subscribe Today
theaters Purchase Now, Instant Online Course Access
Utilizing Pilates to Enhance Rehab Outcomes
$175.00
CE Hours: 10.0 hrs, 1.0 CEU
Delivered: Online
Utilize Pilates to Enhance Rehab Outomes Home Study - Instant Online Access to Online Material and Videos for 365 days, Downloadable Course Manual PDF
All Access Subscription
---
$189
All Access Video Subscription
1 Year Access with Annual Renewal
State specific course completion certificates.
Chat support
Prices are in US dollars
12 months of access to all online courses, course tests and state approval certificates.
Meet all your CE requirements. Pre-approved for PT, PTAs in AK, AL, AZ, CA, CO, CT, DC, DE, GA, HI, IA, ID, IL, IN, KS, MA, ME, MI, MO, MS, MT, NC, ND, NE, NH, NM, NV, NY, OR, PA, RI, SC, SD, TN, TX, UT, VA, VT, WA, WI, and WY.
AOTA approved.
Designed for Physical Therapists, Occupational Therapists, Athletic Trainers and Assistants.
Access to future courses and content.
Start, stop and resume, right where you left off in a course.
Real patient interviews.
Medical expert contributors.
3D anatomy and medical illustrations.
Easy to use learning system for fast access to your courses.
Award winning content.
Top instructors teaching evidence based skills and techniques.
Learn from the Expert Sara Koveleski Kraut, PT, DPT - Discussion regarding the benefits of Pilates
---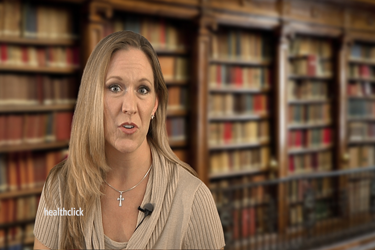 Understand the benefits of Pilates, specifically in the rehabilitation setting.
Describe all the principles of Pilates and the applications of each in a clinical setting.
Be able to perform a variety of Pilates exercises and teach patients the appropriate exercises for their conditions.
Understand which Pilates exercises address specific impairments encountered in the rehabilitation setting.
Discuss the latest evidence for integrating Pilates into the orthopedic, neurologic, and geriatric populations.
Demonstrate understanding in the practical application of Pilates exercises covering a variety of conditions and diagnoses that are presented in a case study format.
Develop progressive rehab programs utilizing the fundamentals of Pilates principles for a variety of diagnoses to include geriatric, neurological, work related injuries, orthopedic and cardiopulmonary dysfunction.
Learn More about Sara Koveleski Kraut
The Eight Pilates Principles - Highlights
---
Pilates effect on improving strength
Muscle flexibility and joint range of motion
Posture and conditioning of the body
Breathing
Core Control
Alignment and Posture
Spinal Articulation
Precision and Control
Movement Integration
Pilates Exercise Guide - Highlights
---
Each exercise is throughly explained in each movie segment

Imprinting

Lower Extremity Movements with Neutral Pelvic Alignment

Heel Slides
Knee Extension with Heel slide
Knee Extended Leg Lowering and Lifting
Bent-Knee Hip Circles with Neutral Pelvis
Table Toe taps
Table Toe taps with Arm Lifts
Bridging
Bridging with Modifications

Mat Exercises

The Hundred
Half Roll Up
Roll-Up
Single Leg Circles
Single Leg Stretch
Double Leg Stretch
Single Straight Leg Stretch (scissors)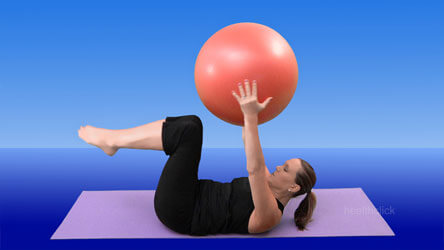 Criss-Cross
Spine Stretch Forward
The Corkscrew
The Corkscrew II
The Saw
Spine Twist
The Jackknife
Front/Back - Side Kick Series
Up/Down - Side Kick Series
Circles - Side Kick Series
Double Leg Lift - Side Kick Series
Bicycle - Side Kick Series
Clams
Side Plank
Modified Side Plank
Front Leg Pull
Mermaid
Swimming
Standing Pilates Exercises
---
Criss-Cross
The Saw
The Hundred - Legs on Ball
The Hundred - Small Ball Behind Back
The Half Roll Up - Legs on Ball
The Half Roll Up - Holding Swiss Ball
Double Leg Stretch - Holding Ball
Criss-Cross - Legs on Swiss Ball
Shoulder Bridge - Beginner
Shoulder Bridge - Intermediate
Shoulder Bridge - Advanced
Mermaid
Swan Dive - Intermediate
Swan Dive - Advanced
The Saw
Pilates Exercises with Foam Roll
---
Scapular Elevation/ Depression
Scapular Protraction/ Retraction
Supine on Foam Roll
Tabletop Leg Lowering
Tabletop Toe Taps
Double - Supine, Tabletop Leg Lowering
Obliques - Supine, Tabletop Leg Lowering
Bridging - Supine on Foam Roll
Bridging - Feet on Foam Roll
Single Leg Circles
Trunk Extensions with Forearm on Foam
Pilates Exercises with Ring/Circle
---
The Hundred
The Half Roll-Up
The Corkscrew
Bridging - Ring Between Thighs
Bridging - Ring Under Foot
Spine Twist
Hamstring Stretch
Inner Thigh Stretch
Outer Thigh Stretch
Prone Trunk Extension
Pilates Exercises with Bosu Trainer
---
Lower Extremity Movements
Bridging with Feet on the BOSU® Trainer
Half Roll
Roll Up
Single Leg Stretch
Double Leg Stretch
Criss Cross
Modified Side Plank
Front Leg Pull
The Hundred

Exercises with Bands

Clams
Sitting Spine Twist
Bent-Knee Single Leg Circles
Single Leg Circles
Side Lying Hip Circles
Front Leg Pulls
Case Study 1 - Pilates for Post ACL Reconstruction
---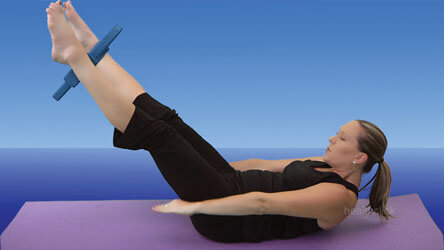 A 21-year old male has been in PT for the past 6 weeks post ACL reconstruction on the right knee.
Case Study 2 - Pilates for Total Hip Replacement
---
A 70-year old female is 5 weeks post-op for a left total hip replacement (posterior THR precautions).
Case Study 3 - Pilates for Multiple Sclerosis
---
Patient is a 40-year old female was diagnosed with Multiple Sclerosis 5 years ago. She currently complains of mild difficulty with walking, occasional losses of balance, and generalized upper and lower extremity weakness. Her goals for PT are to improve her walking, balance, and upper body strength.
Case Study 4 - Pilates for Stroke Patients
---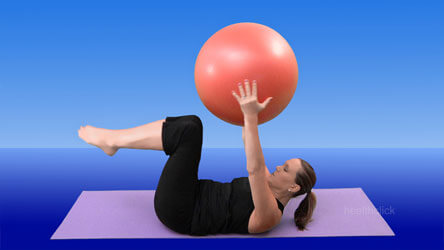 A patient is a 68-year old male who reports having a stroke 3 weeks ago. Prior to the stroke, he states he was working full-time as an electrician. He states he usually plays golf twice per week and enjoys spending time with his 3 young grandchildren. He states his goals for PT are to improve his walking, return to work, return to golf, and return to being able to play with his grandkids.
Case Study 5 - Pilates for Lower Back Pain
---
A patient is an 80-year old female who currently complains of right low back pain that radiates into her right buttock and posterior thigh. She states she had an MRI last week and her doctor diagnosed her with lumbar stenosis. Aggravating factors include prolonged walking and prolonged standing. She usually feels better with sitting and bending forward. She states she is very active and would like to return to her previous level of activity which includes walking on the track at the senior center and attending her Tai Chi class.