Foundation Exercises for the Treatment of the Shoulder
Learn something now! - Watch the CEU Course Trailer
Why should a physical therapist, occupational therapist or athletic trainer take this shoulder exercise continuing education course?
There are so many variables to consider when choosing individualized shoulder rehabilitation exercises. "foundational exercises" contribute to advanced shoulder treatment programs and are essential to any injury's safe progression. Combining activities as plyometrics, open chain and closed kinetic chain activities with mobilizations will promote synergistic rebuilding of shoulder function.
Learn evidence-based "foundation" exercises to integrate into your shoulder treatment programs that optimize kinetic chain muscle activity for shoulder-related problems.
Rehab clinical tools instructed in this Shoulder Course to enhance your functional outcomes.
Components of the shoulder complex and specific muscles influence on the kinematic chain
Therapeutic exercises guidelines for developing rehabilitation programs for patients with various shoulder pathologies
Advanced exercises and selected manual therapy techniques
Specific instruction that will enhance your understanding and ability to deliver better patient care.
An algorithm based examination for the special tests of the shoulder is demonstrated as an efficient method to perform the tests in a minimal time
Techniques based on published research, demonstrating specific exercises that recruit muscles that help with dynamic stabilization of the glenohumeral joint
Evidence that supports the top "foundation" exercises presented in this course and their effectiveness in strengthening muscles, and improving functional outcomes
Measurement of shoulder treatment outcomes using closed-chain tests, open kinetic-chain tests, and throwing tests
Features unique to this shoulder rehabilitation and exercise CE course.
Research that these "foundation exercises" are effective in patients who have rotator cuff impingements and shoulder pain
Research supporting that these top 10 exercises helps reduce pain and increase functional activities
Evidence supporting that these "foundation exercises" work each link in the kinematic chain, and recruit the relevant muscles
Clinical pearls from a master clinician with forty years of clinical experience on shoulder evaluation and implementation of optimal, individualized shoulder treatment programs
Professional Accreditation
This is an intermediate level course applicable for PT, PTA, OT, AT. Physical Therapy Accreditation: For specific state information, use the accreditation verification menu and select your state of license. AOTA: provider #4487, Occupational therapy professional development activity: Occupational Therapy Service Delivery, evaluation and intervention, and Foundation Knowledge: human body, development, and behavior.
fact_check Accreditation Verification
View PT, PTA, OT and AT Continuing Education Course State Accreditation
Responsible CME® - Testimonials
---
I really learned a lot from this course. George Davies is an expert in his field and knows what he is talking about. I feel more confident going back to my workplace come Monday. I am grateful that my friend who attended Mr. Davies seminar shared to me how she learned so much from his course. I would definitely recommend this course to anyone seeking to improve their knowledge base and improve their skills. -- Mailyn, OT

Very well organized, scientifically based information resulting in a well structured program to evaluate and treat shoulder dysfunction. -- Craig, PT

Clear and concise advice, techniques, and tests that can be easily used in your daily treatments. -- Daniel, PT

Very excellent course. The instructor is excellent! -- Greselda, PT

George Davies is a master clinician and a great presenter. After seeing his live course 15 years ago, I aways turn back to him to refresh my knowledge of the very best approaches to shoulder examination, diagnosis and treatment. -- Luke, OT

Clear, concise and clinically relevant. -- Patrick, PT

A good CEU for entry level shoulder exercises and testing. -- Chad, PTA

A good course to take for entry level knowledge of the shoulder with exercise examples. -- Amanda, PTA

George Davies is a very good presenter with obvious knowledge and professional way of passing this knowledge on that is relevant for all levels of this profession -- Randall, PT

nice review of mobilization techniques -- Melissa, Physical Therapist

This course gave me some great tools to progress my shoulder patients in a safe and effective manner! -- Krista, PTA

This will help me with shoulder rehab on my patients. -- Joseph, PT
Meet your Continuing Education License Requirements for $189
BEST VALUE - Includes this course and all our online courses
Subscribe Today
theaters Purchase Now, Instant Online Course Access
Foundation Exercises for the Treatment of the Shoulder
$120.00
CE Hours: 5.0 hrs, .5 CEU
Delivered: Online
Instant Online Access to Course Material for 365 days, Videos, Online Test, PDF Manual Download and Printable Course Certificate with State Specific CEU approval
All Access Subscription
---
$189
All Access Video Subscription
1 Year Access with Annual Renewal
State specific course completion certificates.
Chat support
Prices are in US dollars
12 months of access to all online courses, course tests and state approval certificates.
Meet all your CE requirements. Pre-approved for PT, PTAs in AK, AL, AZ, CA, CO, CT, DC, DE, GA, HI, IA, ID, IL, IN, KS, MA, ME, MI, MO, MS, MT, NC, ND, NE, NH, NM, NV, NY, OR, PA, RI, SC, SD, TN, TX, UT, VA, VT, WA, WI, and WY.
AOTA approved.
Designed for Physical Therapists, Occupational Therapists, Athletic Trainers and Assistants.
Access to future courses and content.
Start, stop and resume, right where you left off in a course.
Real patient interviews.
Medical expert contributors.
3D anatomy and medical illustrations.
Easy to use learning system for fast access to your courses.
Award winning content.
Top instructors teaching evidence based skills and techniques.
Learn from the Expert George Davies DPT, MEd, PT, SCS, ATC, LAT, CSCS, FAPTA, PES
---
DR. GEORGE J. DAVIES is a clinician, educator, speaker, researcher, author, editor and consultant. He is an internationally known speaker who has presented hundreds of conferences throughout the world on sports medicine, sports physical therapy, athletic training, shoulder, knee, open and closed kinetic chain topics, orthopaedics, rehabilitation and Isokinetics.
Learn More about George Davies
Upon completion of this course the participants should be able to:
Recognize the value and importance of the "Top 10" shoulder exercises as the foundation for a rehabilitation program to work each link in the kinematic chain
Evaluate and interpret Advanced shoulder exercises that be incorporated after a solid foundation is established for selected patients
Analyze and apply the appropriate mobilization techniques for selective hypomobility conditions of the shoulder
Evaluate the examination techniques that are appropriate to be used for a patient based on the clusters of signs and symptoms and clinical reasoning
Synthesize the examination findings and organize the results into a treatment program to also be used for clinical outcomes
Properly perform a shoulder evaluation
Top Ten Foundation Exercises for the Treatment of the Shoulder
---
Learn the Top Ten Exercises for Rehabilitation of the Shoulder
Upper trapezius (UT) (Top of scapula)
Lower trapezius (LT)(Bottom of scapula)
Protraction plus (Serratus Anterior)(SA)(Front of scapula)
Retraction Row (Middle Trapezius) (Rhomboids)(Back of scapula)
Flexion of GH joint (Anterior Deltoid, Coracobrachialis) (Front of GH joint)
ER and then Horizontal Extension of GH joint (Infraspinatus, teres minor, posterior deltoid) (Back of GH joint)
Rotator Cuff Internal Rotation (Subscapularis) (Front of RTC)(30/30/30 position)(30° of abduction, 30° to scaption, 30° of a diagonal movement pattern)
Rotator Cuff External Rotation (Infraspinatus, teres minor) (Back of RTC)(30/30/30 position)(30° of abduction, 30° to scaption, 30° of a diagonal movement pattern)
TAS-Biceps Curls (Front of arm)
Triceps Extensions (Back of arm)
Learn to Integrate Advanced Exercises into your Shoulder Treatment Rehab Progarms
---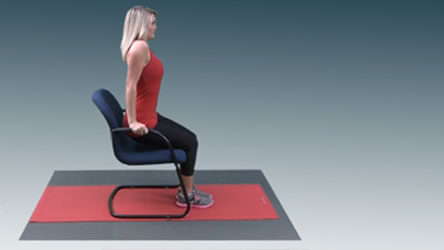 Detailed Instruction on each exercise
Plyometrics - Chest Press Exercises
Push Ups and Clap Pushups
Plyometric Drops - Prone Position for ER muscles
Open Kinetic Chain (OKC) Rhythmic Stabilizations ? Neutral position
Closed Kinetic Chain (CKC) - Unstable surface
CKC - Rhythmic Stabilization - Stable surface
OKC - Rhythmic Stabilization - Provocative Position
CKC - Rhythmic Stabilization - Unstable surface
Expert Manual Therapy for the Shoulder Complex
---
Caudal glide - Explination - Clinical Pearls - Progession Time Frames
Posterior Glide - Neutral position with progression to IR - Clinical Pearls - Progession Time Frames
Anterior Medial Glide - Clinical Pearls - Progession Time Frames
Physiological Mobilizations - ER - Clinical Pearls - Progession Time Frames
Physiological Mobilizations - IR - Clinical Pearls - Progession Time Frames
Modified Sleeper Stretch (Izumi Stretch) - Clinical Pearls - Progession Time Frames
Master the Evaluation Tests for the Shoulder
---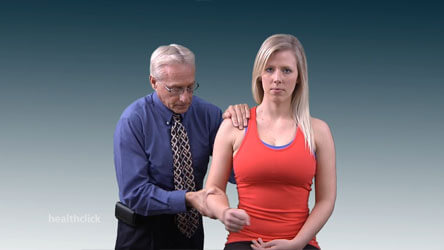 Instructions on the tests for the shoulder with patient sitting
Instructions on the tests for the shoulder with patient supine
Detailed instruction on each test
Course Test - Evaluate your knowledge
---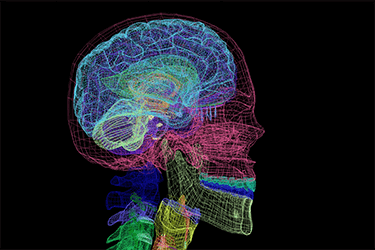 Use the Healthclick proprietary online education system which provides the online student with:

Worldwide access to high definition video, anatomical animations and images, and written information
The highest quality film in the industry, you can see the difference!
Stop and resume within a course, the Healthclick system will optimize your course based on your device, connection and remembers where you left off.
Real-time course updates. We are always adding to each courses, updating content, adding animations, these are not static courses!

Evaluate your knowledge with the course test on any device.
Print your state course certificate for CE credit.
Take the online test as many times as need in order to achieve a 70 % or greater score.