Foundation Exercises for the Treatment of the Knee
Learn something now! - Watch the CEU Course Trailer
Why should a physical therapist, or athletic trainer take this knee continuing education course?
Knee injuries often involve more than one structure resulting in sprains, fractures, dislocations, meniscus tears, and musculoskeletal dysfunction. It takes a comprehensive approach for effective healing and functional gains after an injury. A combination of neuromuscular dynamic stability, proprioception, and kinesthetic balance training promotes this healing environment. To get the person back to work, play, and or athletic events.
Learn therapeutic exercise guidelines for developing rehabilitation programs for patients with various knee pathologies. Foundational exercises work each link in the kinematic chain in an isolated manner to build the "foundation" toward progression to advanced functional specificity exercises.
Rehab clinical tools instructed in this knee rehabilitation and exercise course to enhance your functional outcomes.
Algorithm based test to maximize efficiency and accuracy
Therapeutic exercises guidelines for developing rehabilitation programs for patients with various knee pathologies
Advanced exercises and selected manual therapy techniques
Specific instruction that will enhance your understanding and ability to deliver better patient care.
An algorithm based examination for the special tests of the knee
A selection of the best tests, based on the evidence (sensitivity, specificity, likelihood ratios, positive and negative predictive values) selected and utilized in the knee algorithm
Clusters of signs and symptoms provide the clinical reasoning for using the specific tests
Features unique to this knee rehabilitation and exercise CE Course.
Evidence supporting the progression of the patient is based on many criteria, including: pain, soft tissue healing, ROM, strength, kinesiophobia, fitness level, patient's goals, quality of movement
Research supporting that these top 10 exercises helps reduce pain and increase functional activities
Evidence supporting that these top 10 exercises work each link in the kinematic chain, with evidence that supports that each exercise is optimal to recruit the relevant muscles
Clinical pearls from a master clinician
Professional Accreditation
This is an intermediate level course applicable for PT, PTA, AT. Physical Therapy Accreditation: For specific state information, use the accreditation verification menu and select your state of license. Athletic Trainers: BOC provider #P2047, category A. This course has not been submitted for Evidence-Based BOC approval.
fact_check Accreditation Verification
View PT, PTA, OT and AT Continuing Education Course State Accreditation
Responsible CME® - Testimonials
---
Great way to review special tests and exercise progression for the knee. -- Don, Physical Therapist

Very well presented and organized. Special test explanations with video demonstration very helpful. -- Mark, PT

A good starting point to learn the basics of hip and knee strengthening and progression. -- Chad, PTA

A good refreshers on basic hip and knee exercises. -- Amanda, PTA

Good review of knee testing and explanation of various exercises. Videos were good. -- Joseph, PT

Great information and very insightful for new practitioners -- Edwin, ATC

Good course for Total Le strengthening. Highly recommended. George Davies always puts out great material. -- David, PTA

Excellent course -- Todd, Physical Therapist

Clear, concise videos were beneficial to really understand the therapeutic exercises and knee pathology tests -- Lea, PT
Meet your Continuing Education License Requirements for $189
BEST VALUE - Includes this course and all our online courses
Subscribe Today
theaters Purchase Now, Instant Online Course Access
Foundation Exercises for the Treatment of the Knee
$120.00
CE Hours: 5.0 hrs, .5 CEU
Delivered: Online
Instant Online Access to Course Material for 365 days, Videos, Online Test, PDF Manual Download and Printable Course Certificate with State Specific CEU approval
All Access Subscription
---
$189
All Access Video Subscription
1 Year Access with Annual Renewal
State specific course completion certificates.
Chat support
Prices are in US dollars
12 months of access to all online courses, course tests and state approval certificates.
Meet all your CE requirements. Pre-approved for PT, PTAs in AK, AL, AZ, CA, CO, CT, DC, DE, GA, HI, IA, ID, IL, IN, KS, MA, ME, MI, MO, MS, MT, NC, ND, NE, NH, NM, NV, NY, OR, PA, RI, SC, SD, TN, TX, UT, VA, VT, WA, WI, and WY.
AOTA approved.
Designed for Physical Therapists, Occupational Therapists, Athletic Trainers and Assistants.
Access to future courses and content.
Start, stop and resume, right where you left off in a course.
Real patient interviews.
Medical expert contributors.
3D anatomy and medical illustrations.
Easy to use learning system for fast access to your courses.
Award winning content.
Top instructors teaching evidence based skills and techniques.
Learn from the Expert George Davies DPT, MEd, PT, SCS, ATC, LAT, CSCS, FAPTA, PES
---
DR. GEORGE J. DAVIES is a clinician, educator, speaker, researcher, author, editor and consultant. He is an internationally known speaker who has presented hundreds of conferences throughout the world on sports medicine, sports physical therapy, athletic training, shoulder, knee, open and closed kinetic chain topics, orthopaedics, rehabilitation and Isokinetics.
Learn More about George Davies
Upon completion of this course the participants should be able to:
Recognize the value and importance of the "Top 10" knee exercises as the foundation for a rehabilitation program to work each link in the kinematic chain.
Evaluate and interpret Advanced knee exercises that be incorporated after a solid foundation is established for selected patients.
Analyze and apply the appropriate mobilization techniques for selective hypomobility conditions of the knee.
Evaluate the examination techniques that are appropriate to be used for a patient based on the clusters of signs and symptoms and clinical reasoning.
Synthesize the examination findings and organize the results into a treatment program to also be used for clinical outcomes.
Understand the clinical application of the examination techniques, therapeutic exercise interventions, and mobilization techniques (if appropriate).
Perform the tests to evaluate the knee
Learn the Top Ten Exercises for Rehabilitation of the Knee
---
Quadriceps sets (Quadriceps)
Long Arc Exercises - 90°-0° - Flexion (Hamstrings))
Quad Set & Straight Leg Raises (SLR) (Quadriceps, Hip flexors-Iliopsoas)
Hip Extension Exercises (Gluteus maximus & Hamstrings)
Hip Abduction (Gluteus Medius)
Adduction (Hip Adductors)
Hip External Rotation - Resisted exercises with Bands (Hip ER Muscles)
Hip Internal Rotation - Resisted (Hip IR Muscles)
TLS - 2 leg calf raises (Gastrocnemius, Soleus)
TLS - 2 leg soleus raises (Soleus)
Closed Kinetic Chain - Neuromuscular Dynamic Stability Exercises
---
CKC - Balance/perturbation/kinesthesia Exercise
BOSU® perturbation training with external perturbation
Perturbation exercises on BOSU®
Integrate Proprioceptive or Kinesthetic Balance Training in the Lower Extremity
---
Nordic hamstring exercises with ballistic progression
2-Leg Jump and 2-Leg Stick Landing
2-Leg Jump and 1-Leg Stick Landing
1 Leg Hop and 1 Leg Stick Landing
Single leg anterior hop and stick landing on unstable surface
90° jump & turn rotation and stick landing
180° deg Jump and Twist with Stick Landing
90°, 180°, 270°, 360° jump & turn rotations and stick landing
Master Evaluation of the Knee
---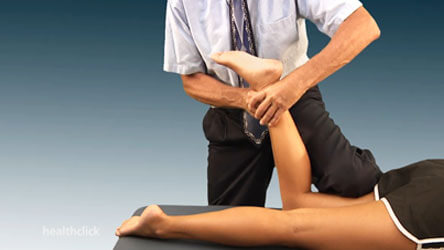 The Knee Algorithm for Evaluation of the Knee
Effusion tests
Patellofemoral mobility testg
Patellofemoral OKC PROM Tracking test
PF OKC AROM Tracking test
CKC AROM Tracking test
PCL tests
ACL Tests & Rotary instability tests
ACL tests
MCL Valgus stress test at 0° & 30°
LCL Valgus stress test at 0° & 30°
Meniscus tests
Apleys distraction tests for MCL & LCL with Davies Dynamic Version
Course Test - Evaluate your knowledge
---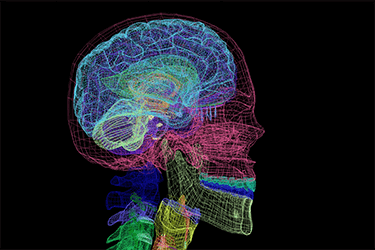 Use the Healthclick proprietary online education system which provides the online student with:

Worldwide access to high definition video, anatomical animations and images, and written information
The highest quality film in the industry, you can see the difference!
Stop and resume within a course, the Healthclick system will optimize your course based on your device, connection and remembers where you left off.
Real-time course updates. We are always adding to each courses, updating content, adding animations, these are not static courses!

Evaluate your knowledge with the course test on any device.
Print your state course certificate for CE credit.
Take the online test as many times as need in order to achieve a 70 % or greater score.