Examination and Treatment of the Hip Joint
Learn something now! - Watch the CEU Course Trailer
Why should a physical therapist, or athletic trainer take this hip examination and treatment physical therapy continuing education course?
Hip pain, weakness and tenderness especially while walking can indicate a serious dysfunction within the hip joint or surrounding musculature. The underlying causes to the symptoms can be systemic or local. Common problems with the hip joint include strains, bursitis, dislocation, fractures and referred pain.
Learn to perform an examination of the hip joint, the tests to implement, what patients they should be performed on, what entails a positive (or negative test), and the diagnostic accuracy of such tests. Perform manual therapy, stretching, and strengthening techniques as they apply to the hip pain patient. Explore detailed information regarding proper set-up, hand placement, technique, re-assessment, and EMG values (exercises) in order to determine which treatment interventions are most clinically applicable in their various types of hip patients.
Rehab clinical tools instructed in this Hip Examination and Treatment Course to enhance your functional outcomes.
Techniques to rule out lumbar spine and SI joint/pelvic girdle as potential pain generators
Identifying a positive or negative test, and the diagnostic accuracy of such tests
Differential diagnosis skills to isolate the underlying dysfunction and choose the appropriate treatment techniques
Specific instruction that will enhance your understanding and ability to deliver better patient care.
Perform manual therapy, stretching, and strengthening techniques as they apply to the hip pain patient
Proper set-up of Hip joint tests, hand placement, technique, re-assessment, and EMG values (exercises) are demonstrated in order for the clinician to make decisions on which interventions are most clinically applicable based on the individual patient issue
Definitions of diagnostic accuracy when reviewing the efficacy of specific examination and treatment approaches in relation to the hip joint
Professional Accreditation
This is an intermediate level course applicable for PT, PTA, AT. Physical Therapy Accreditation: For specific state information, use the accreditation verification menu and select your state of license. AOTA: provider #4487, Athletic Trainers: BOC provider #P2047, category A. This course has not been submitted for Evidence-Based BOC approval.
fact_check Accreditation Verification
View PT, PTA, OT and AT Continuing Education Course State Accreditation
Responsible CME® - Testimonials
---
I enjoyed doing an on line course. I like being able to stop and start as my schedule permitted. -- Diane, PT

Good demonstration of joint mobilization techniques and pt exercises -- Paul, PT

This course was thorough and helpful in assisting me to better my clinical evaluations of the Hip complex. -- Brandon, ATC

Well organized, well illustrated in booklet and video -- Suzanne, Physical Therapist

Great review of hip pathology, special tests and treatment exercises. -- Don, Physical Therapist

This course was both clinical and practical, can put into practice immediately -- Dennis, Physical Therapist

Mike does a good job explaining the various tests, mobilizations, and exercises. I really like having written, video, and audio for learning. -- Sally, PT

I learned several new techniques for testing the hip. It was quite informative. I also liked the self- mobilization techniques for patients. -- Jennifer, PT

Excellent courses!!! I keep returning to this resource and will continue to in the future. -- Sean, Physical Therapist
Meet your Continuing Education License Requirements for $189
BEST VALUE - Includes this course and all our online courses
Subscribe Today
theaters Purchase Now, Instant Online Course Access
Examination and Treatment of the Hip Joint
$175.00
CE Hours: 10.0 hrs, 1.0 CEU
Delivered: Online
Instant Online Access to Course Material for 365 days, Downloadable Course Manual PDF, Videos, Online Test and Printable Course Certificate
All Access Subscription
---
$189
All Access Video Subscription
1 Year Access with Annual Renewal
State specific course completion certificates.
Chat support
Prices are in US dollars
12 months of access to all online courses, course tests and state approval certificates.
Meet all your CE requirements. Pre-approved for PT, PTAs in AK, AL, AZ, CA, CO, CT, DC, DE, GA, HI, IA, ID, IL, IN, KS, MA, ME, MI, MO, MS, MT, NC, ND, NE, NH, NM, NV, NY, OR, PA, RI, SC, SD, TN, TX, UT, VA, VT, WA, WI, and WY.
AOTA approved.
Designed for Physical Therapists, Occupational Therapists, Athletic Trainers and Assistants.
Access to future courses and content.
Start, stop and resume, right where you left off in a course.
Real patient interviews.
Medical expert contributors.
3D anatomy and medical illustrations.
Easy to use learning system for fast access to your courses.
Award winning content.
Top instructors teaching evidence based skills and techniques.
Learn from the Expert Michael P. Reiman, PT, DPT, OCS, SCS, ATC, FAAOMPT, CSCS
---
Michael P. Reiman, PT, DPT, OCS, SCS, ATC, FAAOMPT, CSCS is an assistant professor of physical therapy at Duke University Medical Center. As a clinician Dr. Reiman has over 20 years of experience in assessing, rehabilitating, and training athletes, clients, and patients at various levels of ability. He received his doctoral degree in physical therapy from MGH Institute of Health Professions in 2007. In addition to his certifications as an athletic trainer and strength and conditioning specialist, Dr. Reiman is a manual therapy fellow through the American Academy of Orthopaedic and Manual Physical Therapists (having completed a 2 and one year fellowship program), is a USA Weightlifting level 1 coach and a USA Track and Field level 1 coach. Dr. Reiman has co-written the only textbook on functional testing, Functional Testing in Human Performance, written eight book chapters on orthopedic examination/intervention and training for strength, power, and endurance. He has also written multiple articles in such journals as the American Journal of Sports Medicine, Journal of Orthopedic and Sports Physical Therapy, and Journal of Sport Rehabilitation, as well as having served as special guest editor for a special issue on the hip joint in the Journal of Sport Rehabilitation. Dr. Reiman currently serves on the editorial board for the Journal of Sport Rehabilitation and is a reviewer for multiple orthopedic and sports related journals. Dr. Reiman presents on various levels of assessment and treatment methods at national, regional, and local conferences and actively participates in research regarding various testing methods for orthopedic examination-intervention and human performance. His current research and presentation interests focus on performance enhancement, low back/hip pain, and evidence based examination-intervention of the hip joint. He continues to practice clinically on various sports and orthopedic-related injuries. He is a member of the American Physical Therapy Association, National Athletic Trainers Association, National Strength and Conditioning Association, USA Weightlifting Association, and USA Track and Field Association
Identify how to perform a Differential Diagnosis examination to rule out the Lumbar Spine, SI Joint and stress fractures when assessing for specific hip diagnosis.
Discuss the definitions of diagnostic accuracy when reviewing the efficacy of specific examination and treatment approaches in relation to the hip joint.
Identify how to enhance examination skills by performing differential diagnostic tests to determine the underlying mechanisms of hip dysfunction and pain. Ruling out: poor alignment, hip intra-articular pathology, hip intra-articular/instability pathology, impingement labral tears, muscle dysfunction and gluteal tendinopathy.
Describe the steps to perform appropriate joint mobilization techniques for the hip joint dysfunction.
Develop evidence based rehabilitation programs for specific dysfunctions that are based on current scientific literature.
Identify how to utilize the information in research articles to perform the most effective tests and develop evidence based rehab programs.
Rule out the Lumbar Spine, SI Joint and Stress Fractures
---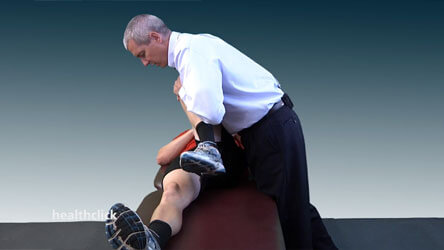 Repeated Motions (Flexion and Extension) of Lumbar Spine
Posterior-Anterior Glide Assessment for Facet Joint Dysfunction
Extension Rotation Test for Facet Joint Dysfunction
Thigh Thrust Test
Ruling out poor alignment, hip intra-articular pathology, hip intra-articular/instability pathology, impingement labral tears, muscle dysfunction and gluteal tendinopathy
---
Fracture/Stress Fracture Tests
Fulcrum Test
Patellar-Pubic Percussion Test
Fracture/Stress Fracture Tests
Fulcrum Test of Femur
Hip Range-of-Motion (ROM)
All ranges of hip motion are assessed
Hip IR < 15 degrees and flexion < 115 degrees is suggestive of hip osteoarthritis
Assess Hip Alignment - Craig's Test
Hip Intra-Articular Pathology - Heel Strike Test, Resisted Straight Leg Raises (SLR) Test, Hip Scour Test, FABER (Flexion-Abduction-External Rotation) Test
Ruling out poor alignment, hip intra-articular pathology, hip intra-articular/instability pathology, impingement labral tears, muscle dysfunction and gluteal tendinopathy
---
Assess for Capsular Laxity - Dial Test, Log Roll Test, Abduction–Extension–External Rotation Test
Test for potential labral pathology - Flexion–Adduction–Axial Compression Test, Flexion–Internal Rotation Test, Internal Rotation–Flexion–Axial Compression Test
Hip impingement - FADDIR (Flexion–Adduction–Internal Rotation) Test
Assess for tight hip flexors and/or tight quads - Thomas Test
Assess for IT band flexibility - Ober's Test
Piriformis syndrome - FAIR (Flexion–Adduction–Internal Rotation) Test
Gluteal tendinopathy - Resisted Hip Abduction Test
Trendelenburg Sign
Resisted External Derotation Test
Hip Lateral Distraction Mobilization
Hip Longitudinal Distraction Mobilization from Knee Purchase
Hip Longitudinal Distraction Mobilization from Ankle Purchase
Hip Mobilization Direct Distraction
Hip Posterior Glide Mobilization from Knee Purchase
Hip Posterior Glide Mobilization from Anterior Hip Purchase
Hip Anterior Glide Mobilization from Posterior Hip Purchase I
Hip Anterior Glide Mobilization from Posterior Hip Purchase II
Hip Anterior Glide Mobilization in Prone Crawl Position
Hip Mobilization with Belt for Flexion
Hip Mobilization with Belt for Internal Rotation
Indirect Mobilization Technique for Hip Internal Rotation
Master Exercises and Stretches to Improve Hip Function
---
Posterior Hip Self Stretch–Mobilization
Self Hip Flexor/Anterior Capsule Stretch (Standing
Self Hip Flexor/Anterior Capsule Stretch (Tall Kneeling
Clam Exercise
Hip Abduction Exercise
Bilateral and Unilateral Bridge Exercise
Bilateral and Unilateral Bridge Exercise–Lying on Physioball
Bilateral Bridging on Physioball–Knees Straight
Bilateral Bridging on Physioball–Knees Bent
Master Exercises and Stretches to Improve Hip Function
---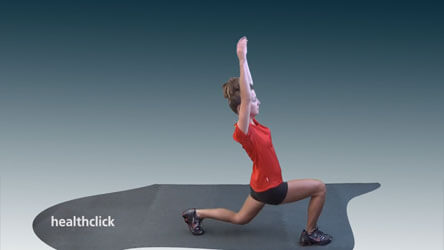 Bird Dog Exercise
Lunge Exercise Variations
Unilateral Mini–Squat Exercise
Single Limb Squat Exercise
Single Limb Deadlift Exercise
Forward Step–Up Exercise
Side–Bridge Exercise
Hip Hike