Biomechanics of the Shoulder
Learn something now! - Watch the CEU Course Trailer
Why should a physical therapist, or athletic trainer take this shoulder continuing education course?
Shoulder impingement, rotator cuff injury, or frozen shoulder? Shoulder pain and loss of function are the leading reasons to seek professional care. The biomechanics of the shoulder girdle requires a synergistic balance of musculoskeletal function. A trained clinician can differentiate movement imbalance and guide treatment toward healing and progression toward optimal function.
Learn with in depth instruction on the biomechanics of the shoulder, mechanisms of injury, evidence-based research, and clinical reasoning skills, in order to confidently implement a comprehensive treatment for shoulder dysfunction
Rehab clinical tools instructed in this shoulder rehabilitation continuing education course to enhance your functional outcomes.
Techniques to identify the power of exercise to treat and restore physical deficits of the shoulder and to identify faulty patterns and dysfunction
Specific diagnoses are covered, including rotator cuff dysfunction/injury, thoracic outlet, impingement, instability, bicipital tendonitis, subscapular neuritis, AC joint dysfunction, and a variety of problems associated with muscular dysfunction
Evidence-based research is conveyed to encourage critical thinking skills
Specific instruction that will enhance your understanding and ability to deliver better patient care.
The four most important concepts used when performing a biomechanical examination
Strategies for development of the optimal treatment approach for your shoulder patient
Extensive demonstrations and explanation of progressive treatment approach for the variety of diagnoses
Features unique to this shoulder injury ce course
The spectrum of injuries that can occur in the shoulder complex, ranging from micro-trauma to full thickness tears and repairs
Deep discussion of overhead biomechanics of sports injuries, including throwing problems that commonly occur
Demonstrations of the evaluation sequence, presenting critical evaluative tests, manual therapies, and mobilization assessment tools to perform a comprehensive shoulder exam
3D animation and description of the musculoskeletal shoulder system
Professional Accreditation
This is an intermediate level course applicable for PT, PTA, OT, AT. Physical Therapy Accreditation: For specific state information, use the accreditation verification menu and select your state of license. AOTA: provider #4487, Occupational therapy professional development activity: Occupational Therapy Service Delivery, evaluation and intervention, and Foundation Knowledge: human body, development, and behavior. Athletic Trainers: BOC provider #P2047, category A. This course has not been submitted for Evidence-Based BOC approval.
fact_check Accreditation Verification
View PT, PTA, OT and AT Continuing Education Course State Accreditation
Responsible CME® - Testimonials
---
Outstanding presentation. Loved his approach at beginning and his quotes at the end. -- Sally, OT

Great topics for clinical applications. -- Marlou, Physical Therapist

This course was informative and will prove to be useful in my evaluation and treatment of patients at my clinic. -- Amy, OT

The presenter is highly knowledgeable and provides excellent considerations for the therapeutic process overall regarding the shoulder, and researched based individual considerations for evaluation and treatment. Be prepared to take a lot of notes. -- Charles, OT

Appreciate the fact that this calls is more advanced and challenges my thought process -- Teena, PT
Meet your Continuing Education License Requirements for $189
BEST VALUE - Includes this course and all our online courses
Subscribe Today
theaters Purchase Now, Instant Online Course Access
Biomechanics of the Shoulder
$175.00
CE Hours: 12.0 hrs, 1.2 CEU
Delivered: Online
Instant Online Access, Color 152 Page PDF Manual for Download, 365 days of access, Mobile Ready
All Access Subscription
---
$189
All Access Video Subscription
1 Year Access with Annual Renewal
State specific course completion certificates.
Chat support
Prices are in US dollars
12 months of access to all online courses, course tests and state approval certificates.
Meet all your CE requirements. Pre-approved for PT, PTAs in AK, AL, AZ, CA, CO, CT, DC, DE, GA, HI, IA, ID, IL, IN, KS, MA, ME, MI, MO, MS, MT, NC, ND, NE, NH, NM, NV, NY, OR, PA, RI, SC, SD, TN, TX, UT, VA, VT, WA, WI, and WY.
AOTA approved.
Designed for Physical Therapists, Occupational Therapists, Athletic Trainers and Assistants.
Access to future courses and content.
Start, stop and resume, right where you left off in a course.
Real patient interviews.
Medical expert contributors.
3D anatomy and medical illustrations.
Easy to use learning system for fast access to your courses.
Award winning content.
Top instructors teaching evidence based skills and techniques.
Highlights of this Online Continuing Education Course
---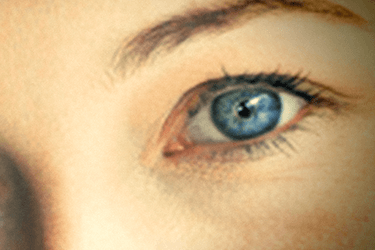 Objectives
Upon successful completion of this course the participant will be able to
Understand the normal biomechanics of the shoulder.
Identify the correct motion within the plane of the scapula when assessing and treating the shoulder.
Identify abnormal biomechanics of the shoulder and how dysfunction disrupts function at varying stages of motion.
List the 17 muscles of the shoulder.
Describe the importance of the profile method of assessment and the role of evidence-based information. In addition be able to identify when the evidence based information can be a barrier to progressive thought and treatments.
Describe the process of critical decision making and how to improve this process when examining a shoulder to determine appropriate tests and treatment progression.
Describe the Cyriax screening approach with modifications.
Perform a thorough differential diagnosis examination of the shoulder to include an appropriate subjective examination, Cyriax screening methods , mobility testing and a thorough manual examination.
Perform appropriate tests to rule out thoracic outlet syndrome, impingement.
Describe the important components and function of the rotator cuff.
Perform phased treatment progression techniques for the serratus anterior, subscapularis, latissimus dorsi.
Understand the different phases involved with throwing and mechanics at each phase.
Perform special tests and clearly understand findings for the Apprehension Test, Biceps Load Test, O'Brien Test, Neer Test, Kennedy Hawkins Test, Air Test, Aim Test, Sulcus Test, Labral ERS Test.
Incorporate myofascial trigger point treatments into rehabilitation programs.
Develop a progressive treatment approach for the rotator cuff at varying stages of dysfunction/Injury.
Analyze available multi-modal exercise approaches for a comprehensive rehab program.
Develop a perspective of current evidence-based practice and techniques for shoulder/scapular dysfunction.
Learn from an Expert - Mark Albert, M.Ed, PT, ATC, LAT
---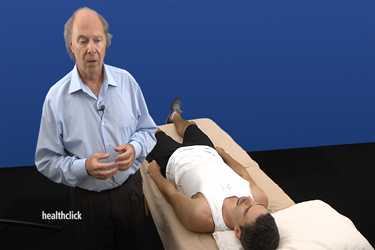 Mark Albert, M.Ed, PT, ATC, LAT I will bring forth 37 years of evidence based clinical knowledge in two days. We have work to do!
My comprehensive experience and perspective stems from participation in a very rich variety of sports, clinical, research-based and educational settings for over the past 37 years. I am an internationally recognized author on subject matter relating to orthopedics and sports therapy. My approach is to blend the essential biomechanics with focused manual techniques for immediate clinical application and results.
Patterns of motion
Difficulty moving in the plane of the scapula
Plane of the scapula and correlation to isokinetic strength
Manual marker for plane of the scapula
T-sign
Concept of posture to plain of the scapula
Biomechanics of the Shoulder
---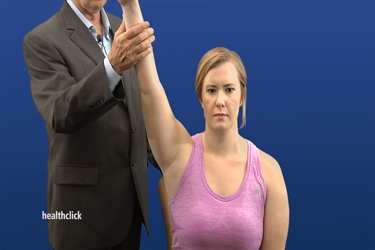 Biomechanics of elevation
Postural assessment
Biomechanics of the optimal shoulder
Biomechanical dysfunction
Phases of elevation
Rotator cuff action during phase two elevation
Humeral head motion
Axis of motion
Understanding phase three elevation and a common misunderstanding of the biomechanics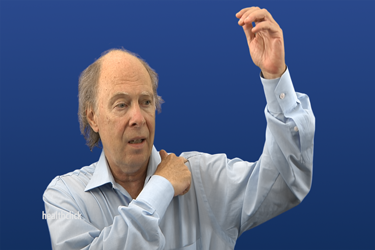 What exactly is the rotator cuff?
Subscapularis function
Supraspinatus
Balanced strength
Method of Assessment and the Evidence Based Approach
---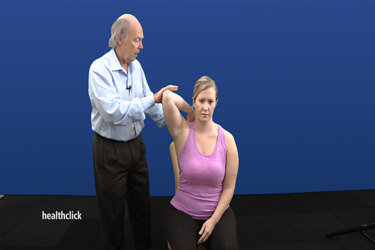 A profile and method of assessment
Role of evidence and how it applies to our practice in the clinic
Critical decision making-differential diagnosis
Discussion on the evolution of evidence based articles and how to apply the evidence into clinical practice
Barriers to using evidence in the clinic
Algorithms
Clinical prediction guidelines
The responsibility of the clinician and the role of keeping informed on the current evidence
Medical education and our role
Philadelphia Panel
Components of an Evaluation Sequence
---
Make a difference
Establish a good provider-patient trust relationship
Listen to the patient
Getting What you Need from the Subjective Exam
---
How to get a good subjective history
Pain pattern history
Pain map
Chief complaint
Questionnaire (sample provided)
The Physical Exam: Objective and Measurement Period-Overview and Screening
---
Finding specific deficits
Cyriax Screen-modified
Thoracic outlet
Roos Test
Measure mobility
Looking at the four motions of movement
Manual test sequence
Special tests
Aim Test
Testing the capsule
Patient provocation for tendon stretches
Test for true bursitis
Ventral fault
Treatment Techniques: Scapular-Manual Therapy, Stretching
---
Treatment to enhance synergy
Four part sequence scapular exercises to strengthen the serratus anterior
Manual therapy technique to stretch upper trapezius
Home program sequence
Trigger point release
Subscapularis flexibility
Latissimus dorsi
Treatment: Exercises and the Evidence for Rotator Cuff
---
Mid stage exercise for the post rotator cuff injury or post surgery
Intermediate stage
Evidence-based support for treatment approaches
Seventeen exercises from easy to advanced
Centinela core exercise and progression
Treatment: Throwing Mechanics
---
Phases of throwing
Injury potential
Throwing aspect of acceleration
Speed of movement
Examination: Instability and Bicep Series of Testing
---
Special tests: which ones do you utilize?
Apprehension
Sulcus
Relocation
Bicep Load and series of bicep testing
O'Brien Compression
Yergason
Examination: Dynamics of Impingement Passive Categories and Active Test
---
Tests with good psychometric value with sensitivity and specificity considerations
Passive and active type categories
SLAP lesion
ERST test
Mid-stages of suprascapular neuritis
Treatment Techniques for: AC, Stiff Shoulder and Early Care
---
Type three/grade three injury
Stiff shoulder-idiopathic or injury?
Manual techniques
Manual technique for inferior/anterior capsule
Stretch position for optimal results
Elomotus ® Medical Education Imagery
Rotator Cuff Tears: Description and Treatment Progression
---
Stages of a tear-size of the tear
Symptoms of a tear
Physiological process of a tear
Healing of a tear
Musculoskeletal factors involved in micro-trauma
The Deltoid-considerations for optimal results
Recovery time
Rehab progression
Rehab progression flow chart (included)
Milestones
Important rehab guidelines
Impingement Syndrome Description and Treatment Progression
---
Variety of diagnoses
Subacromial decompression
Ventral fault
Musculoskeletal imbalance
Rehab progression
17 Muscles of the Shoulder and Some Great Simple Exercises
---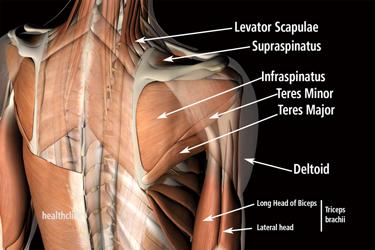 Anatomical review
Elomotus ® Medical Education Imagery
Course Test - Evaluate your knowledge
---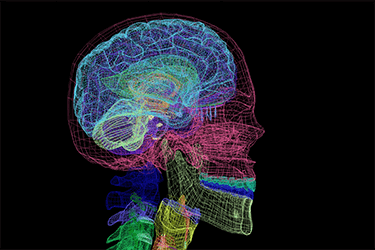 Use the Healthclick proprietary online education system which provides the online student with:

Worldwide access to high definition video, anatomical animations and images, and written information
The highest quality film in the industry, you can see the difference!
Stop and resume within a course, the Healthclick system will optimize your course based on your device, connection and remembers where you left off.
Real-time course updates. We are always adding to each courses, updating content, adding animations, these are not static courses!

Evaluate your knowledge with the course test on any device.
Print your state course certificate for CE credit.
Take the online test as many times as need in order to achieve a 70 % or greater score.